Concerts in Stuttgart
Вениамин Смехов в Германии. Стихотерапия
90s Disco Live 2023
ARTIK & ASTI in Germany and Czech Republic
Sukhishvili Ballet 2023
«Пошлая Молли» в Германии
Children's multimedia performance "Cosmo Show"
Niletto in Germany
Events
Events in cities
05.06.2023
Dmitry Nazarov will present his poems on stage
The audience will be able to get acquainted with an unusual side of Dmitry Nazarov's work by visiting the actor's creative evening "L'amour-mour, or Power over the shoulder". The program including civic poetry, songs and romances will be presented in Germany in the middle of June. The creative evening will also be attended by Dmitry Nazarov's wife - actress Olga Vasilyeva.
More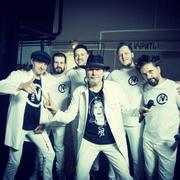 01.02.2023
"Dream Girl" or the best gift for March 8!
March 8 is just around the corner, which means you should think about a touching, worthy, and most importantly - a welcome gift for your favorite women! Perfume - good, but hackneyed, handbag - not bad, but banal, but to give a bright evening in the circle of charismatic and talented artists - it's in the trend. The musicians of the legendary band "Nancy" know how to touch a woman's heart, awaken warm memories and arouse tender feelings. Meet the special spring fantasy show of "Nancy" band for the International Women's Day on MARCH 8!
More