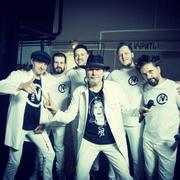 "Dream Girl" or the best gift for March 8!
01.02.2023

March 8 is just around the corner, which means you should think about a touching, worthy, and most importantly - a welcome gift for your favorite women! Perfume - good, but hackneyed, handbag - not bad, but banal, but to give a bright evening in the circle of charismatic and talented artists - it's in the trend. The musicians of the legendary band "Nancy" know how to touch a woman's heart, awaken warm memories and arouse tender feelings. Meet the special spring fantasy show of "Nancy" band for the International Women's Day on MARCH 8!

New and all-too-famous hits "Menthol Cigarette Smoke", "Clean Sheet", "At the Chic Hotel", "Black Cadillac", "Mint" are waiting for you.Black Cadillac", "Ah, the fog-fog", "How I Loved You", "My Svetik, Svetlana", "Bitterly Crying Willow" and many others! The sensual voices of the artists and heartfelt songs will plunge you into the intoxicating atmosphere of romance, nostalgia and bliss, while the dance hits will bring you back to the dance floor of your youth!

When you come to meet the legendary "Nancy" group, you will be able to:

- Enjoy the signature style and "menthol music" adored by millions;

- feel young and in love;

- to plunge into the ocean of love, romance and carefree;

- to see live the artists, whose creativity inspires and gives good emotions;

- become part of a spectacular musical show.

Brightly start the spring! Please yourself and your Loved ones with a great musical celebration with menthol flavor and dream aroma!

Tickets for the concert of the cult band "Nancy" are on sale now.